Posted by: Maryland ENT in News
In 2014, Alan H. Shikani, MD, founder and president of the Maryland ENT Center, and Fuad El-Hibri, founder and chair of Emergent BioSolutions established the Shikani/El Hibri Prize for Discovery & Innovation at the Johns Hopkins Bloomberg School of Public Health (JHSPH). This annual $10,000 prize recognizes excellence in the laboratory sciences and discoveries that have the potential to significantly advance biomedical science and to translate into improvements to patient care or the public's health. "The Prize for Discovery and Innovation" explained Dr. Shikani and Mr El-Hibri "demonstrates our commitment to the extraordinary faculty at JHSPH and to support young teachers-scholars who dedicate themselves to academic excellence and creative pursuit. Our hope is that the Shikani/El-HibriPrize will inspire others to want to make a difference and support the new generation of Hopkins researchers."
Inspired by the impact of the Johns Hopkins School's work in public health, his own academic connections with Johns Hopkins and his son's (Henry Shikani) degree in Molecular Microbiology and Immunology at the Bloomberg School of Public Health, Dr. Shikani felt motivated to support those researchers whose works caries the potential to translate critical knowledge of laboratory research into the clinic and public health.
Having founded Emergent BioSolutions, a global specialty biopharmaceutical company whose corporate mission is to protect and enhance life, Mr. El-Hibri has dedicated his life work to advancing public health. "Instilling in our youth the love for discovery and innovation will help ensure a steady stream of scientific leaders. We hope that investing in today's faculty and scholars will lead to identifying new cures and treatments for tomorrow."
Recipients of the Shikani/El Hibri Prize for Discovery & Innovation at Johns Hopkins include:
2014 Recipient: The 2014 recipient is Dr. Jiou Wang, from the Department of Biochemistry & Molecular Biology of the JHSPH for his work: A novel, unifying mechanism for the molecular pathogenesis of Amyotrophic Lateral Sclerosis (ALS,or Lou Gehrig's disease) and Fronto-Temporal Dementia (FTD). By analyzing the mutation's structure at the RNA and DNA levels and identifying the causes of interference with protein production in diseased cells, Wang's team found the probable root cause of ALS. This exciting work has recently been published in Nature: "C9orf72 nucleotide repeat structures initiate molecular cascades of disease. 2014 Mar 13;507(7491):195-200."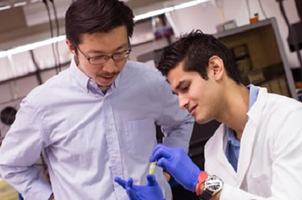 Jiou Wang
Department of Biochemistry & Molecular Biology
2015 Recipient: The 2015 recipient is Dr. Scott Bailey, from the Department of Molecular Microbiology and Immunology and the Malaria Research Institute of the JHSPH for his work: Understanding the molecular mechanisms underlying the CRISPR-based system of bacterial immunity. Scott and his team were the first to fully reconstitute the E. coli CRISPR system in vitro, which enabled them to distinguish the biochemical steps involved in the identification and destruction of invading DNA (but not host DNA). They also determined the high-resolution structure of Cascade bound to a ssDNA target, a technical tour-de-force that provides a molecular blueprint for understanding the mechanisms of the CRISPR system. This exception la work was recently accepted for publication at the very prestigious journal Science: "Targeted Destruction, How the bacterial CRIPR immune system recognizes foreign DNA."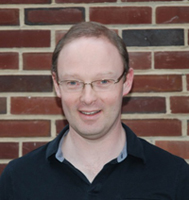 Dr. Scott Bailey
Department of Molecular Microbiology and Immunology
2016 Recipient: The 2016 recipient is Dr. Andrew Pekosz, from the W. Harry Feinstone Department of Molecular Microbiology and Immunology of the JHSPH for his work: "Restricted replication of the live attenuated influenza A virus vaccine during infection of primary differentiated human nasal epithelial cells". One of the principle ways Dr. Pekosz is contributing to our basic research efforts is through the use of primary human nasal epithelial cell (hNEC) cultures to study influenza virus replication and cellular responses to infection. This culture system is capable of discerning changes in the replication of various clinical isolates in a way that no other standard cell culture system is capable of, which is allowing JH-CEIRS to be able to differentiate different influenza virus isolates as to their fitness for spreading in the human population and will become an important tool to assess the "pandemic potential" – the threat a particular animal influenza virus carries for becoming a human pathogen – of a number of animal influenza viruses that are being isolated at other CEIRS facilities Dr. Pekosz's knowledge of influenza biology and his use of hNEC cultures are indispensable for the JH-CEIRS work we are moving forward in a way that bridges clinical studies, basic research and public health. His studies of LAIV replication in hNEC cultures fit perfectly into this description. He is providing molecular and mechanistic insights into LAIV replication using a novel culture system and his research could lead to better influenza vaccines, which are sorely needed. This exciting work was recently published in Vaccine: 33 (2015) 4495-4504.

Andrew Pekosz PhD
Co-Director, Johns Hopkins Center of Excellence in Influenza Research and Surveillance (JH-CEIRS), Director, Center for Emerging Viruses and Infectious Diseases (CEVID)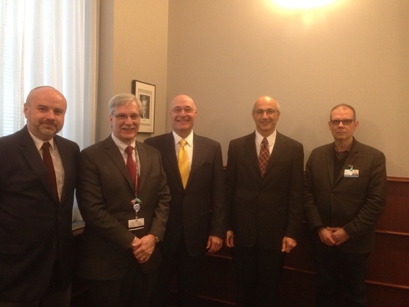 Left to Right: Andrew Pekosz PhD (Professor, Molecular Microbiology and Immunology), Micheal Klag MD (Dean, Johns Hopkins Bloomberg School of Public Health), Fuad ElHibri, Alan Shikani MD, Arturo Casadevall, PhD (Chair, Molecular Microbiology and Immunology). May 2016
2017 Recipient: The 2017 recipient is Dr. Daniela Drummond Barbosa from the Department of Biochemistry and Molecular Biology for her work on germ stem cell production, maintenance and differentiation in the ovary as a function of environmental exposures (dietary influences in particular) and also as a function of organismic-level regulatory relationships with other key organs already was at the time, and continues to be, cutting edge, highly innovative, rigorous, and very impactful. The specific piece of work for which Daniela is being nominated for the Shikani/El-Hibri prize is her recent demonstration that the sensing of amino acids, which are the building blocks for proteins, by adult adipocytes modulates the maintenance of female germ stem cells in the ovary, thus providing a hitherto unknown metabolic link between adipose tissue and the ovary and furthering the connection between diet, metabolism and egg production. The work was published in a very substantive, three-authors article published in the journal Development, a leading and prestigious journal in the field of developmental biology. To quote Daniela (cf. essay appended with this nomination), "this study reveals a new step in the adipocyte-stem cell crosstalk, and suggests that the aberrant co-option of endocrine pathways that normally tie stem cell lineages to whole body physiology might contribute to the increased cancer risk associated with obesity." Daniela has clearly evolved into a word class leader in the use of Drosophila as a powerful and relevant model system for the study of complex biology in a way that is highly relevant to reproduction and public health.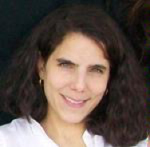 Daniela Drummond Barbosa
Professor Department of Biochemistry and Molecular Biology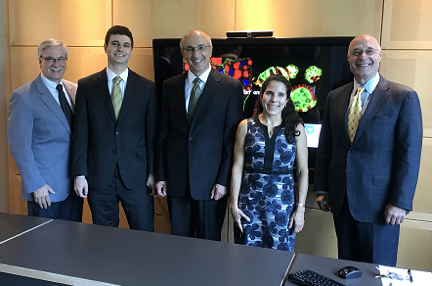 Left to Right: Micheal Klag MD (Dean, Johns Hopkins Bloomberg School of Public Health), Henry Shikani PhD, Alan Shikani MD, Daniela Drummond Barbosa, PhD, Fuad ElHibri. May 2017
2018 Recipient: The 2018 recipient is Dr. George Dimopoulos, from the Department of Molecular Microbiology and Immunology for his innovative and creative research leading to the development and discovery of genetically modified malaria-resistant mosquitoes that can spread and prevail in a mosquito population. This work has a profound potential for malaria control and public health. Dr. Dimopoulos' research stands out through its innovation and creativity, with the long-term goal of developing new strategies to stop transmission of malaria, dengue and Zika by mosquitoes. He joined our department in 2003 after an extremely successful training trajectory in laboratories of some of the best institutions in the world, including Stockholm University, University of Crete, Harvard University and the European Molecular Biology Laboratory. As a faculty member, he has occupied positions at the Imperial College of London and at Johns Hopkins University. George has played a leading role in the advancement of cutting-edge mosquito research, and his work has been published in many top-ranking scientific journals including Nature, Science, Cell Host & Microbe, PLoS Biology, PNAS, etc. His discoveries have also been highlighted numerous times in media such as the NYT, BBC, NPR, Voice of America, Smithsonian, Discovery channel, Scientific American, Wired, etc, and one of his discoveries relating to the mosquito microbiome was highlighted by the Discover Magazine as #13 of the top 100 Science discoveries of 2011. Based on this knowledge, his research group at Johns Hopkins University has developed genetically modified immune-enhanced mosquitoes that can resist infection with these pathogens. This line of research has a strong potential to evolve into a self-sustainable disease transmission-blocking strategy relying on genetically modified pathogen-resistant mosquitoes that would replace those that currently transmit disease. This discovery represents a significant advance in the basic science and understanding of the tripartite interactions between mosquito immunity, microbiota and mating behavior, and has a profound translational potential with relevance to public health.